Keep Roswell Beautiful
About the City of Roswell, New Mexico, USA
CityAddress
CityPhone, Fax: CityFax
Click logo to see a larger view and description.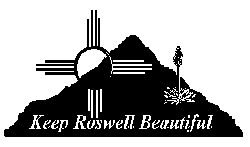 Julie Marie Brown
KRB Coordinator
Keep Roswell Beautiful
425 N. Richardson Ave.
Post Office Box 1838
Roswell, New Mexico 88202-1838
(505) 624-6700, Ext. 293
Keep Roswell Beautiful's goals are litter control and prevention, graffiti removal and prevention, beautification, recycling, household hazardous waste collection, and public education on solid waste issues. Roswell became a Keep America Beautiful affiliated community in August of 1987. Now, 10 years later, the program has made strides to reach its goals and has become a national award winner.
Keep Roswell Beautiful is partially funded by a grant from New Mexico Clean and Beautiful through the New Mexico State Highway and Transportation Department.
Keep Roswell Beautiful worked directly with the public on "Quality of Life" issues and received an average of 420 calls from the public per month. That is 5,040 calls per year. These calls dealt with questions about solid waste, recycling and other community issues as well as requests for graffiti removal, litter removal and beautification topics.
Keep Roswell Beautiful plans to continue improving the quality of life in Roswell during the next fiscal year. Yearly projects that will be continued are: Arbor Day, Wipe Out Graffiti Days, Paint Recycling, Teacher Training, Monthly Beautification Awards, Adopt- A-Highway Cleanup, Trek for Trash, Glad Bag-A-Thon, Gov. ???? for Trees, Happy B- day NM, Christmas Tree Recycling, Telephone book Recycling, Doodle Art Contest and the Outdoor Environmental Classroom.
---