Roswell Police Employment
The Selection Process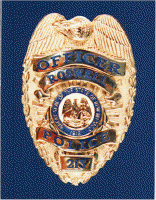 APPLICATION
The employment application may be obtained at the City Hall's Human Resource office, 425 N. Richardson, Roswell, NM 88201, (505) 624-6700 ext. 268.
PHYSICAL FITNESS EXAMINATION
Each applicant must participate in a physical fitness test which is graded pass/fail.
WRITTEN EXAMINATION
Applicant must obtain a passing score to proceed to the oral interview.
ORAL INTERVIEW
Each applicant will be interviewed by a board of officers and ranking members of the Roswell Police Department.
POLYGRAPH EXAM
Each applicant must undergo a polygraph examination to satisfactorily verify applicant Information provided.
BACKGROUND INVESTIGATION
An extensive background investigation will be conducted on each applicant.
PSYCHOLOGICAL EVALUATION
Each applicant must undergo a psychological evaluation.
MEDICAL EVALUATION
Each applicant must undergo a complete physical exam according to the guidelines set down by the NMLEA and the City of Roswell.
---