Roswell Police Employment
Salary and Benefits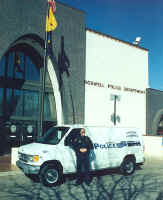 SALARY
Non-certified will be paid $11.62 per hour ($24,172 annually). Certified wage will range from $12.20 to $16.19 per hour ($25,381 to $32,052 annually).
CLOTHING ALLOWANCE
Officers will receive $800.00 per annum.
VACATION
80 to 160 hours per year based upon length of service, 8 paid holidays, and 1 shift of personal leave per year.
SICK LEAVE
8 hours of sick leave accrued each month.
HEALTH INSURANCE
Health and life insurance provided to each officer. Dependant health, dental and vision insurance available at varying rates.
RETIREMENT PLAN
Each officer is required to participate in the Public Employees Retirement Plan. Officers have the option to retire after 20 years of credited service, if eligible.
---